Deputy Prime Minister Vuong Dinh Hue has reprimanded the Ministry of Transport for allowing higher fares to be applied to railway, air and bus services, resulting in the high consumer price index (CPI) last month, Dan Tri news website reported.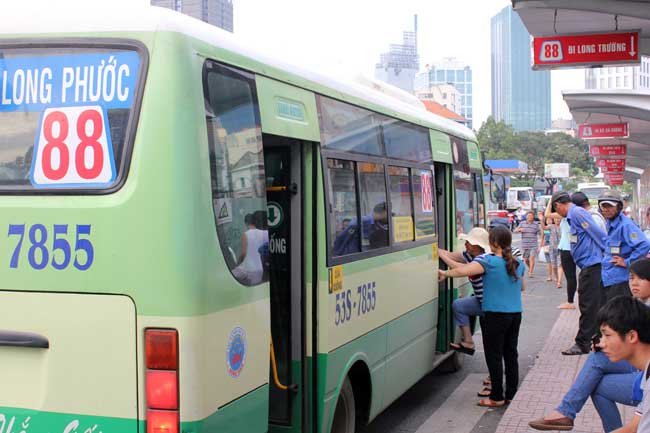 Passengers get on a bus in HCMC. The Ministry of Transport is criticized for allowing higher fares to be applied to railway, air and bus services, chasing up the consumer price index (CPI) last month
Speaking at a meeting of the Steering Committee for Price Management on July 10, Hue as head of the committee noted that bus fares, along with railway and air fares, had increased in many places although fuel prices have barely gone up.
The deputy prime minister quoted data from the General Statistics Office (GSO) as saying that railway fares had increased by 7.41% last month.
Even bus fares in localities such as Hung Yen, Bac Giang, Thanh Hoa, HCMC, Long An and Vinh Long rose by 2.68%. Meanwhile, Vietjet and Jetstar Pacific have also increased ticket surcharges by 2.59%, according to Hue.
Questioning the reasons behind the fare hikes, Hue pointed out that the trend was usually seen whenever demand for transportation services increased.
It is a common practice that room rates are lowered when a hotel receives a large number of guests, but things are going the other way in this case, he said, adding that these factors were not included in the scenario reported to the Steering Committee for Price Management.
Hue directed the transport ministry to review and reflect on its price management activities. The Ministry of Finance, meanwhile, has been assigned to supervise these activities and report to the Government.
Justifying the increase in fares, Deputy Transport Minister Le Dinh Tho reasoned that the hikes were within permissible limits and did not affect the CPI.
"In June and this month, I have personally recommended the lowering of railway fares and service fees to attract passengers. To make railway transport more popular, we have to lower fares," Tho was quoted in Dan Tri as saying.
Hue did not agree with Tho and said it was unreasonable to state that fare and fee hikes were within the permissible limits. According to GSO's statistics, transport service costs contributed 1.04% to the CPI increase.
SGT
Nguồn: english.vietnamnet.vn