Japanese official visits nurse training centre in HCM City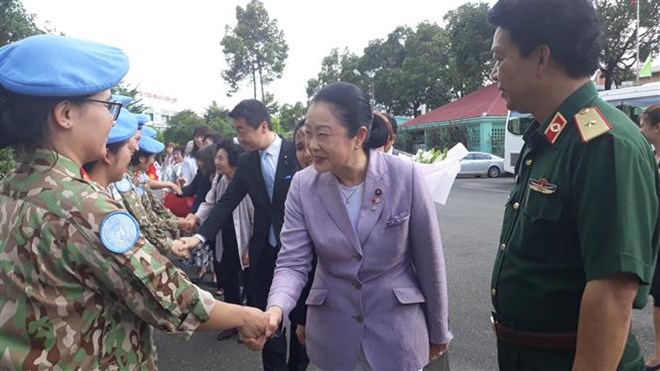 Member of the House of Representatives Tsuchiya Shinaki visits the centre 
A working delegation from the Liberal Democratic Party of Japan's Committee for the Development of Women led by member of the House of Representatives Tsuchiya Shinaki, visited a nurse training centre at the 175 Military Hospital in Ho Chi Minh City on July 13. 
Shinaki, who is also head of the House of Representatives' Committee on Science, Technology, and Innovation and deputy head of the Committee on Land and Transport Infrastructure, watched how Japanese experts demonstrated skills to trainee at the Hoa Anh Dao (Sakura) training centre of the hospital and discussed the efficiency of training courses with nurses. 
She expressed her wish to learn about the prospect of Vietnam's medical sector and cooperation programmes between Japan and Vietnam, as well as between Japan and Hospital 175. 
Director of the 175 Military Hospital Nguyen Hong Son hoped to receive further support from Japan in key fields such as training for doctors, nurses, technicians and management staff; technological and technical transfer; scientific research; construction of training centres and nursing homes for the elderly; and disaster first aid and medical support. 
Established in August 2017, the Hoa Anh Dao Training Centre was a joint effort between Vietnam's 175 Military Hospital and Japan's Syasouken Research Institute for the Development of Social Welfare, marking a new stride in medical cooperation on nurse training under the Japanese model.
Vietnamese, Cuban women vow to tighten bilateral friendship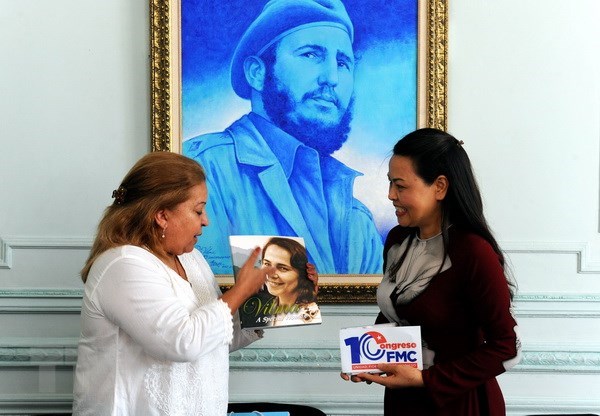 FMC Secretary General Teresa Amarelle Boué (L) presents gift to VWU President Nguyen Thi Thu Ha 
The Vietnam Women's Union (VWU) and the Federation of Cuban Women (FMC) have agreed to intensify cooperation to further tighten the Vietnam-Cuba friendship.
The agreement was reached by VWU President Nguyen Thi Thu Ha and FMC Secretary General Teresa Amarelle Boué during Ha's working visit to Cuba from July 7-13.
They shared targets and achievements in women empowerment as well as challenges facing the two organisations.
Along with introducing the host to the role and rights of Vietnamese women in the socio-political system, Ha affirmed her willingness to share with the Cuban side experience in getting involved in national economic development plans, as well as preparations to adapt to the strong development of technology.
She took the occasion to invite the FMC Secretary General to visit Vietnam to work toward the signing of specific cooperative agreements.
Within the framework of her visit, the VWU leader met Vice President of the Cuban National Assembly Ana María Mari Machado, during which they exchanged information about and experience in women empowerment as well as in how to ensure the interests of women and promote their role in a modern society.
The Vietnamese official also had a meeting with Jose Ramon Balaguer, Secretary of the Communist Party of Cuba (CPC) Central Committee and head of its Department of External Relations, visited the regional office of the Women"s International Democratic Federation, the Cuban Institute of Friendship with Peoples, and the Cuba-Vietnam Friendship Association.
The VWU also paid a floral tribute to late President Ho Chi Minh at his statue in Hoa Binh (Peace) Park in Havana.
Vietnam promotes cooperation with Paraguay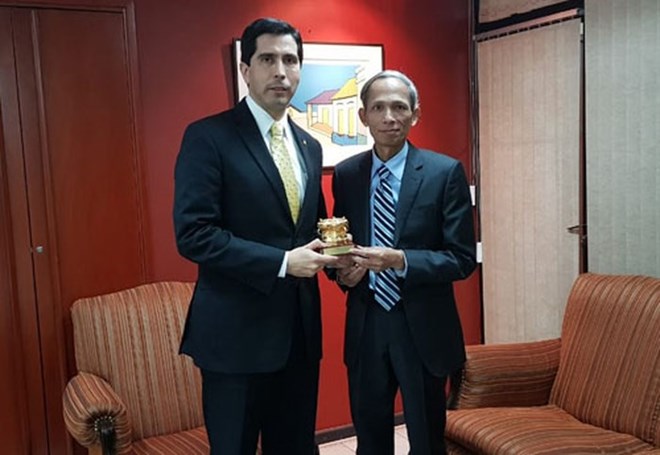 Ambassador Dang Xuan Dung (R) and Deputy Foreign Minister of Paraguay Federico Gonzalez (Photo: Vietnamese Embassy in Argentina)
Vietnamese Ambassador to Argentina, Uruguay and Paraguay Dang Xuan Dung had a working visit to Asuncion, capital of Paraguay, to promote cooperation between Vietnam and Paraguay.
Ambassador Dung met with Deputy Foreign Minister of Paraguay Federico Gonzalez, during which the two sides reviewed the bilateral and multilateral partnership in various fields.
The two sides discussed the potential for expanding cooperation in economy and trade, especially in areas of each country's strengths, while concurring to consider the possibility to hold the next political consultation meeting in early 2019.
Deputy FM Federico Gonzalez spoke highly of Vietnam's political, economic and trade achievements in recent days, showing his hope that the two countries will further foster relations and seek new collaboration opportunities.
During a meeting with representatives from the Paraguayan Ministry of Industry and Trade, both sides evaluated cooperation outcomes over the past three years, saying that current trade turnover has yet to match the two countries' potential.
In the coming time, the Paraguayan ministry hopes to set up partnership with Vietnam's Trade Promotion Agency and work with the Vietnamese Embassy in Argentina to organise some activities to introduce products of each country and visits of businesses to each other's market.
Both sides held that the strengthening of bilateral trade ties will help promote Vietnam's penetration to markets of the South American trade bloc (Mercosur) as well as offer a chance for Paraguayan goods' presence in ASEAN markets.
In a working session with Governor of Asuncion Mario Ferreiro, Ambassador Dung stressed the importance of affiliation between the two countries' localities in the overall ties between Vietnam and Paraguay.
Ferreiro pledged that the city will support and cooperate with the Vietnamese Embassy to hold the Vietnamese Day in Paraguay in the coming time, while expressing his wish to visit Vietnam soon.
He also suggested the formation of twinning relations between the two capital cities.
On the occasion, the Vietnamese Embassy held a Vietnam-Paraguay seminar drawing representatives of local ministries, sectors, associations and a large number of Paraguayan firms.
Deputy PM calls for resources for 'One Commune, One Product' programme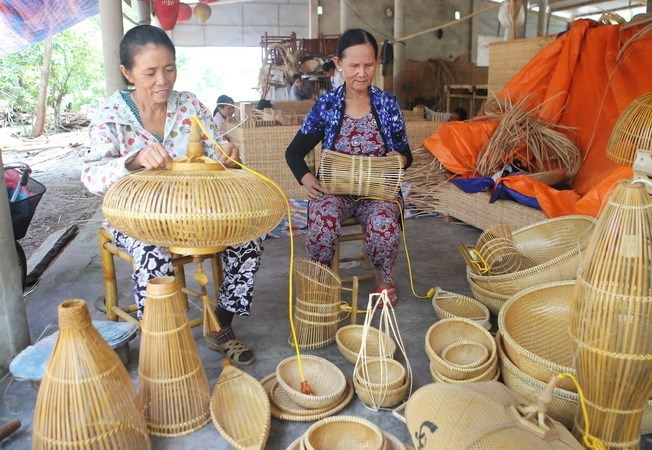 Producing craft products in Thuy Lap commune, Thua Thien-Hue 
Deputy Prime Minister Vuong Dinh Hue has asked ministries and sectors to promptly issue documents guiding the implementation of the "One Commune, One Product" (OCOP) programme, while calling for financial and credit organisations to support it.
Addressing a conference in the northern province of Bac Giang on July 14 to launch the programme for the 2018-2020 period, the Deputy PM said that OCOP is an important solution to restructuring agriculture and building rural areas, promoting the country's sustainable growth.
He expressed his belief that the programme will help improve trademark and quality of Vietnamese agricultural products and services.
OCOP aims to enhance value of local products to the national and global level, he said while highlighting the major role of farmer households, co-operatives and small- and medium-sized enterprises with policy support from the State, he said.
"OCOP is a process having its start but no ending," the Deputy PM stressed, adding that after 2020, the Government will review the programme before launching it for a long term.
He also asked media agencies to focus on popularising the programme. The Ministry of Agriculture and Rural Development (MARD) was assigned to guide localities in implementing, evaluating and rating OCOP products.
MARD Minister Nguyen Xuan Cuong said that the OCOP programme is considered a specific and effective measure to promote products at commune and district levels.
It objectives in the 2018-2020 period include developing strong agricultural, non-agricultural products and services in each localities towards the value chain with the involvement of private and collective economic sectors. 
It is expected to contributing to the restructuring of the rural economy, reducing the migration of rural labourers to cities, and protecting the environment and maintaining social stability in rural area, while effectively implementing a criteria in production in the new-style rural area building programme.
Cuong added that developing agricultural tourism is one of the important measures to promote OCOP.
So far, 60 out of total 63 localities nationwide have started building plans for OCOP Programme, of which 30 localities have finished the work and six have approved and implemented the plans. Particularly, Quang Ninh has entered the second phase.
Dang Huy Hau, Vice Chairman of the People's Committee of Quang Ninh, said that the province has developed 294 products with the engagement of 180 production facilities, including seven five-star products.
Meanwhile, Bac Giang province aims to standardise at least 50 percent of its current products with six five-star products. In 2030, the province hopes to have 170 OCOP products.
According to Minister Cuong, Vietnam currently has 6,010 registered agricultural enterprises, co-operatives and production households, with 4,823 strong products.
He highlighted the need to grasp opportunities of the fourth industrial revolution to produce OCOP products with the model of Agriculture 4.0, of which three key pillars are smart farms, smart farmers, and smart officers.
Dominican people honour late President Ho Chi Minh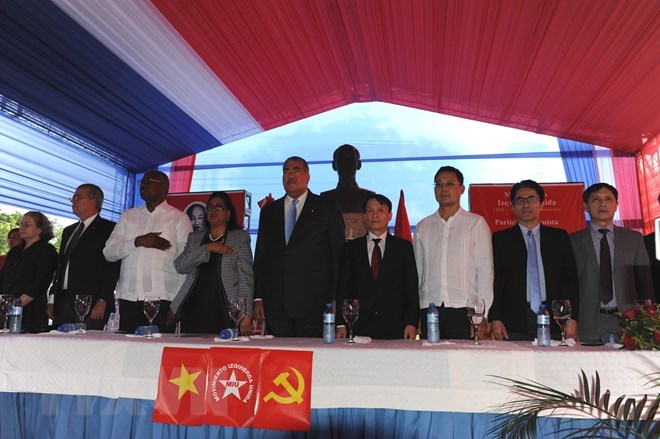 The CPV delegation and social and political activists at a flag salute ceremony held as part of the event 
An activity to honour President Ho Chi Minh  has taken place at a square named after the late Vietnamese leader in Santo Domingo, the capital of the Dominican Republic.
The United Left Movement of the Dominican Republic (MIU) hosted the event on the occasion of an official visit to the country by a delegation of the Communist Party of Vietnam (CPV) led by Nguyen Duc Loi, a member of the CPV Central Committee and General Director of the Vietnam News Agency (VNA).
The event attracted the participation of leaders and social and political activists of the Dominican Republic and diplomats from other Latin American countries, as well as about 500 MIU members and local residents.
At the event, MIU General Secretary and Minister for Regional Integration Policies Miguel Mejía highlighted Ho Chi Minh's revolutionary values, saying that they will continue to be a source of encouragement for progressive forces in Latin America in particular and in the world at large in their fight against oppression and social inequality.
Miguel Mejía mentioned the Vietnamese Government's decision to build a monument of Professor Juan Bosch in Hanoi's Hoa Binh (Peace) Park.
He recalled that Professor Juan Bosch, the first elected president of the Dominican Republic, played an important role in the introduction of the thoughts of Ho Chi Minh to this Caribbean island.
Senator and Politburo member of the Dominican Liberation Party (PLD) Cristina Lizardo emphasised that honouring President Ho Chi Minh also means honouring humanitarian values and aspiration for independence of many countries in the world, including the Dominican Republic.
For his part, Nguyen Duc Loi highlighted the significance of the event and affirmed that the aspiration for freedom, peace and development are the factors helping Vietnam, the Dominican Republic and other Latin American countries foster friendship and cooperation despite geographical distance. 
Leaders extend birthday greetings to Sultan of Brunei
President Tran Dai Quang on July 14 sent a message of best wishes to Sultan of Brunei Haji Hassanal Bolkiah on the occasion of his 72nd birth anniversary (July 15, 1946-2018).
On the same day, Prime Minister Nguyen Xuan Phuc also extended his wishes to the Sultan.
Vietnam and Brunei established diplomatic ties on February 29, 1992. Since then, the two countries have regularly exchanged visits and high-ranking meetings.
Vietnam looks to forge ties with Algeria in various fields: PM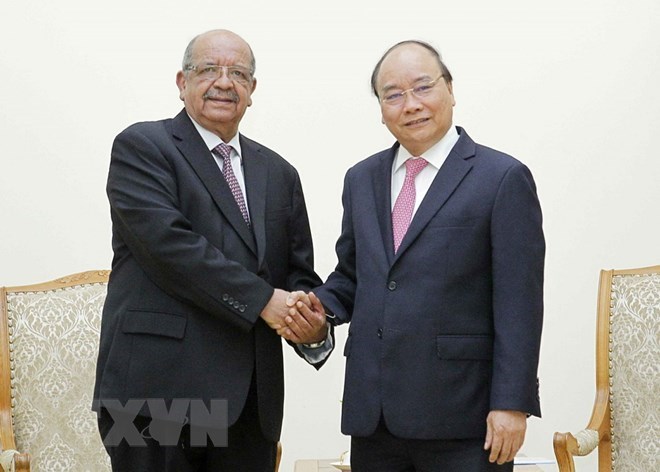 Prime Minister Nguyen Xuan Phuc (right) and Algerian Foreign Minister Abdelkader Messahel 
Vietnam hopes to strengthen its cooperation with Algeria across many key sectors, particularly economy and trade, to match the success of their bilateral political ties, Prime Minister Nguyen Xuan Phuc told visiting Algerian Foreign Minister Abdelkader Messahel. 
During their meeting in Hanoi on July 13, the Prime Minister said Vietnam wants to further enhance its fruitful relationship with Algeria, urging the two sides to fulfill their joint commitments and intensify their exchange of high-level delegations. 
Vietnam and Algeria should continue to step up the implementation of those contents reached at the 11th meeting of the Inter-Governmental Committee in November 2017, PM Phuc suggested.
Vietnam welcomes the consensus reached by agencies of both sides on the formation of the Business Council, as well as their resolve to continue with the negotiations on investment promotion and double taxation avoidance agreements, he noted. 
The PM called for joint efforts in order to raise the bilateral trade revenue to 1 billion USD in 2020, saying businesses and business associations play an important role in this regard. 
Vietnam attaches importance to enterprises and their role as drivers of bilateral economic and trade links, he added. 
Lauding the successes of the Bir Seba oil and gas joint venture between the two countries, PM Phuc expressed his hope that Algeria will create more favourable conditions for the company to operate successfully, especially in terms of administrative procedures. 
Vietnam backs Algeria's joining the World Trade Organisation (WTO) and stands ready to dispatch officials and experts to help the country in this field, he said. 
For his part, A. Messahel said his visit aims to boost cooperation between Vietnam and Algeria in various spheres. 
The FM informed his host about outcomes of his talks with Deputy Prime Minister and Foreign Minister Pham Binh Minh. 
Talking about the Business Council, he suggested putting the organisation into operation effectively and pragmatically. 
Vietnam and Algeria need to strengthen their partnerships in major sectors like oil and gas, telecommunications, pharmaceutical production, and fisheries and agriculture, the official said, urging Vietnam to share its development experience with Algeria. 
The guest used the occasion to affirm Algeria's support for Vietnam's bid to run for a non-permanent seat at the United Nations Security Council for 2020-2021.
The Algerian FM is currently paying a visit to Vietnam from July 13-14 at the invitation of Deputy PM and FM Minh.
Congratulations to new Korean parliament speaker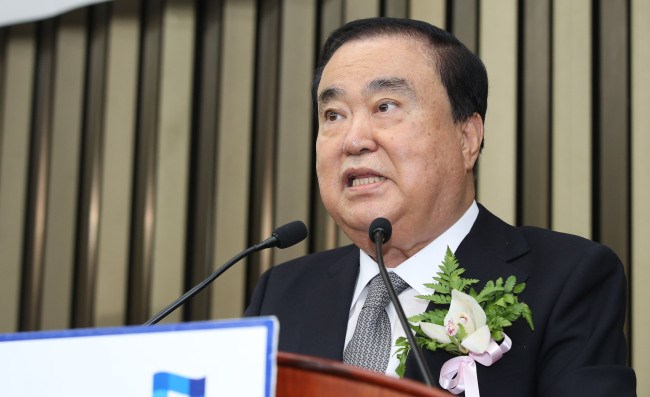 Moon Hee-sang,  Speaker of the National Assembly of the Republic of Korea. (Photo: Yonhap)
Chairwoman of the Vietnamese National Assembly Nguyen Thi Kim Ngan on July 13 sent a message of congratulations to Moon Hee-sang on his election as Speaker of the National Assembly of the Republic of Korea (RoK).
The RoK's lawmakers approved on July 13 a proposal to elect Moon, a six-term lawmaker of the ruling Democratic Party (DP), as the speaker for the second half of the 20th National Assembly"s four-year term as parties agreed earlier this week to normalize parliament after a more than 40-day legislative vacuum, reported the Yonhap News Agency.
They also voted in favor of Lee Ju-young of the main opposition Liberty Korea Party (LKP) and Joo Seung-yong of the minor opposition Bareunmirae Party as the two vice speakers.
Vietnam and the RoK officially established diplomatic ties on December 22, 1992. The RoK is currently Vietnam's largest foreign investor, with over 6,760 valid projects which have total registered capital of more than 59 billion USD.
Vietnam is now the fourth largest trading partner of the RoK while the East Asian country is Vietnam"s second-largest. Two-way trade reached 61.5 billion USD in 2017, up 41 percent year on year, including 14.8 billion USD worth of Vietnamese exports, a rise of 30 percent over 2016.
The RoK is one of Vietnam's biggest official development assistance (ODA) providers. Since 1992, the RoK has offered 2.8 billion USD in ODA to Vietnam to carry out nearly 60 projects, mostly in transport infrastructure, urban development, health care, and water supply and drainage.
Greetings to French leaders on France's National Day
President Tran Dai Quang on July 13 sent greetings to his French counterpart Emmanuel Macron on the occasion of the 229th National Day of France (July 14, 1789 - 2018).
The same day, Prime Minister Nguyen Xuan Phuc also cabled his congratulations to French Prime Minister Edouard Philippe.
Deputy Prime Minister and Foreign Minister Pham Binh Minh extended his greetings to French Minister of Europe and Foreign Affairs Jean-Yves Le Drian on the occasion.
In the messages, the Vietnamese leaders emphasised the importance of the year 2018 when the two countries mark the 45th anniversary of their diplomatic relations and five years of the bilateral strategic partnership.
The leaders expressed their delight at the strong progress of the Vietnam-France relationship over the past time, and proposed that the two countries work closely together for the stronger and more effective development of bilateral ties in the interests of both peoples and for the sake of peace, cooperation and development.
Vietnam and France officially set up diplomatic ties on April 12, 1973. The two nations decided to establish the Strategic Partnership in 2013.
 In recent years, the two sides have maintained the exchange of high-ranking visits and various cooperation mechanisms. Notably, apart from organising the Vietnam-France Defence Policy Dialogue, the two countries have also maintained high-level economic dialogues and financial and economic forums. 
 France was the first Western country to have a defence attaché in Vietnam in 1991. In November 2009, the two ministries of defence signed an agreement on annual rotating organisation of the Vietnam-France Joint Committee on National Defence Cooperation, which was renamed "the Defence Policy Dialogue" with its first meeting in November 2016. 
 Trade links between the two sides has witnessed strong development in recent years. Vietnam has enjoyed a trade surplus in exports to the French market. Two-way trade hit 4.6 billion USD in 2017, up 11.6 percent from the previous year. 
 France began investing in Vietnam in 1988. In 2017, France ranked third among European countries, and 16th among 125 countries and territories investing in Vietnam, with 513 valid projects worth 2.8 billion USD. France's direct investment in Vietnam mainly focuses on IT and processing and manufacturing industries. 
 France is a leading European ODA provider for Vietnam, and Vietnam is the second largest beneficiary nation of French ODA in Asia, with total committed capital of 18.4 billion USD since 1993. 
 Regarding educational cooperation, France regards education and training as a priority in its cooperation with Vietnam, focusing on French language teaching and human resources training at tertiary and post-graduate levels in various areas like economic management, banking, finance, law and new technology.
 The French Government allocates about 5 million EUR (6.1 million USD) for cultural cooperation with Vietnam each year, including support for French culture centres in Hanoi (L'Espace), Ho Chi Minh City (Institute of Cultural Exchange with France – IDECAF), Hue and Da Nang. 
 With 14 projects worth 188 million USD, France ranks seventh among countries and territories in terms of tourism investment in Vietnam, which considers the EU nation as a key source of tourists. 
 Beginning in early 1990s, cooperation among localities of the two countries has become a special feature in the bilateral relations. As many as 38 French localities have established partnerships with 18 provinces and cities of Vietnam. Since 1990, there have been 235 projects between localities of Vietnam and France, focusing on health care, education, water and hygiene, heritage preservation, French-speaking community, rural and sustainable development.
 As members of the International Francophone Organisation (OIF), the two sides have many cooperation activities within the organisation, especially in teaching French, higher education and parliamentary activities. 
 Currently, around 300,000 Vietnamese people are living, studying and working in France, 40,000 of whom have tertiary or postgraduate degrees. Many of them are working in universities, research institutes and administrative agencies of France.
Algeria wishes to foster all-round ties with Vietnam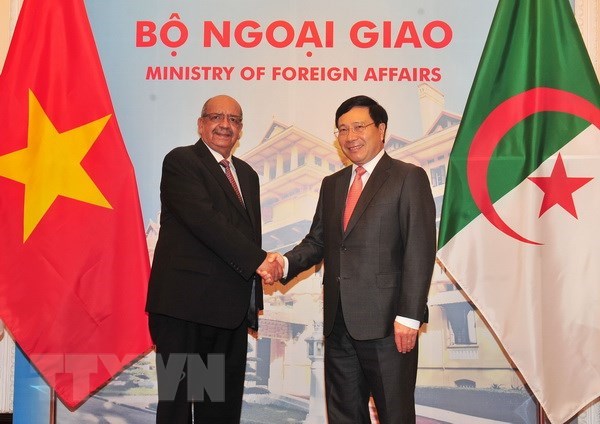 Deputy Prime Minister and Foreign Minister Pham Binh Minh (R) and Algerian Foreign Minister Abdelkader Messahel 
Algerian Foreign Minister Abdelkader Messahel expressed his wish to foster ties with Vietnam in the fields of politics-diplomacy, trade, investment, oil and gas, and labour during his talks with Deputy Prime Minister and Foreign Minister Pham Binh Minh in Hanoi on July 13. 
Messahel, who is on an official visit to  Vietnam from July 13-14 at the invitation of Minh, highlighted the promising operations of Bir Seba joint-venture with the Vietnam Oil and Gas Group (PetroVietnam), considering it a symbol of success in bilateral cooperation. 
He proposed enhancing cooperation between the two countries' provinces and cities via visits, trade fairs, training courses, and scholarships. 
Deputy PM Minh, for his part, thanked Algeria for providing invaluable support to Vietnam both in the past with its struggle for national independence, as well as the current cause of national development. 
In order to deepen bilateral ties, he asked the two countries' ministries and agencies to realise the outcomes of the 11th meeting of the Vietnam-Algeria Inter-Governmental Committee in November 2017. 
In the foreseeable future, Minh suggested the two sides prepare well for the Algerian PM's visit to Vietnam in 2019, while also strengthening the legal framework to facilitate bilateral trade-investment. 
Specifically, the Deputy PM hoped to see more done to realise the agreements in the fields of investment encouragement and protection, double taxation avoidance, plant quarantine, vet hygiene, and protocol on goods trade. 
He urged Algeria to continue assisting PetroVietnam's investment activities in the country, making it easier for the group to expand exploration and exploitation of potential lots, and provide technical services in the field. 
Speaking highly of the prospect for bilateral labour bonds, Minh proposed that Algeria should create favourable conditions for Vietnamese labourers to work for a long term in the country, and consider the signing of a labour cooperation agreement between the two nations in the near future. 
Minh also accepted Messahel's invitation to visit Algeria with pleasure.
HCM City People's Council approves 21 resolutions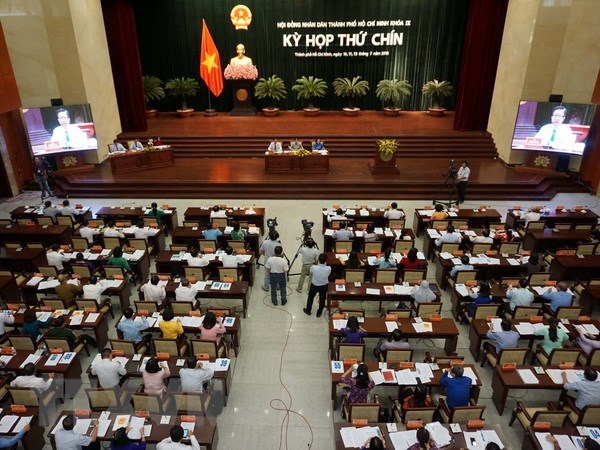 At the meeting 
The ninth meeting of the ninth People's Council of Ho Chi Minh City concluded on July 12 after three days of sitting, with 21 resolutions approved. 
The most noteworthy documents adopted were resolutions on the socio-economic development in the second half of 2018, the supervision work of the council in 2019, and the city housing development programme for 2016-2025.
In her closing remarks, Chairwoman of the council Nguyen Thi Quyet Tam stressed the positive outcomes in socio-economic, and national defence and security developments in the city over the past six months.
She also pointed out bottlenecks in land management and use, plus the inefficient application of sciences and technologies to boost the city's development, especially in addressing flooding, traffic jams, and environmental pollution. 
The official called for drastic efforts in materialising the council's resolutions regarding planning and management, and the settlement of pending projects, especially those on environmental protection, flooding, waste, administration reform, and food safety, as well as in handling cases that stir public anxiety. 
On July 12 afternoon, delegates raised questions for Director of the Department of Labour, Invalids and Social Affairs Le Minh Tan on issues regarding poverty reduction, vocational training and job introduction, and policies on national contributors. 
Tan said the current income of very poor families is below 21 million VND (903 USD) per person per year, and that of low-income families stands at below 28 million VDN (1,204 USD), higher than the national averages.
In early 2018, the city had 58,000 low-income households, including 21,800 poor households, Tan added, noting that the city aims for sustainable poverty reduction.
Vietnam calls for science-technology experts
Prime Minister Nguyen Xuan Phuc (standing) speaks at the meeting 
Vietnam continues the call for more incentives for experts, scientists, as well as domestic and international enterprises to accompany Vietnam in its adoption of the Fourth Industrial Revolution (Industry 4.0), stated Prime Minister Nguyen Xuan Phuc on July 12.
The PM made the statement while hosting a reception in Hanoi for experts, scientists, and representatives of organisations and enterprises participating in the Industry 4.0 Summit and Expo 2018 held in Hanoi on July 12 and 13.
At the meeting, guests hailed the role played by the Vietnamese Government in shaping and developing technology amidst the Fourth Industrial Revolution.
They expressed hope that the PM and the Government will give timely and suitable policies so as to aid a breakthrough in the area of artificial intelligence, and suggested that the Government should create widespread consensus among the society, thus creating "digital chances" for enterprises and people to engage deeper with Industry 4.0 practices.
Representatives from businesses proposed that the Government help enhance the quality of human resources, especially high-quality personnel in the field of information technology.
Besides, the Government should build special policies for IT enterprises, while continuing to reduce administrative procedures and connecting points, thus creating favourable conditions for enterprises to launch new technologies.
Speaking at the meeting, head of the Party Central Committee's Economic Commission Nguyen Van Binh affirmed Vietnam's special focus on developing IT, and that Vietnam will consider the building of specific policies following the model of a "legal framework 4.0" to create optimal conditions for enterprises and people to take advantage of technological productions in the future.
Highlighting the significance of the Industry 4.0 Summit and Expo 2018, PM Phuc expressed his hope that the delegations will give answers to the question of how Vietnam can become successful in the Fourth Industrial Revolution and also clarify some of the Industry 4.0-related concepts.
Participants should contribute to the design of policies and solutions for Vietnam to actively catch up with the revolution, he said.
The PM stated that Vietnam is integrating deeper into the world economy with 15 new generation free trade agreements, with an increasingly open economy and high GDP growth. The country has been strongly affected by the world's economic fluctuations, including those pertaining to Industry 4.0 and artificial intelligence.
Vietnam has formed a strong ecosystem for renovation, he said, holding that it is important to continue designing and completing its policies and legal framework. This will aid a faster expansion of Industry 4.0, as well as the greater science and technology revolution, he noted.
The PM underlined that currently, the legal system of Vietnam has matched international law, including in the sensitive areas of telecommunications, banking, and insurance.
Vietnam has jumped 12 notches on the Global Innovation Index for 2017 and two for 2018, the PM stressed but also acknowledged that Vietnam is still weak in the stage of implementation, requiring more drastic measures to enhance the speed of IT application, especially among science and technology officials and enterprises.
He asserted that Industry 4.0 brings both opportunities and challenges for each country, business, and individual, and that they should raise their awareness of the issue to apply more scientific advances.
The Industry 4.0 Summit and Expo 2018 is being held under the theme of "Vision and Development Strategy in the Fourth Industrial Revolution" and seeing leaders of ministries and sectors joining experts on smart industry and information technology in discussions on the development strategy and application of Industry 4.0.
The highlight of the event will be a high-level forum discussing the vision and development strategy for the Fourth Industrial Revolution.
Leaders of the Party, Government, and National Assembly, as well as some international experts are scheduled to take part in an executive talk themed "Vietnamese Policy on Enhancing Access to the Fourth Industrial Revolution".
There are also five conference sessions debating mega trends of the Fourth Industrial Revolution, namely the building of smart cities, the development of a smart manufacturing industry, the next generation of banking and finance, and visions and development strategies for smart agriculture.
Meanwhile, an international expo held on this occasion will house stalls introducing solutions and services in such key areas as agriculture, industry, energy, telecommunications, health, transport, finance-banking, and e-commerce.
It promises to bring visitors new technological experiences with smart manufacturing applications and leading tech products in the fields of smart factory, automation, 3D printing, AI and robotics, smart sensors, big data, blockchain, network security, industrial Internet of Things (IIoT), e-KYC, cloud computing, mobile device software, authentication, and customer experience solutions. 
National Day of France marked in Ho Chi Minh City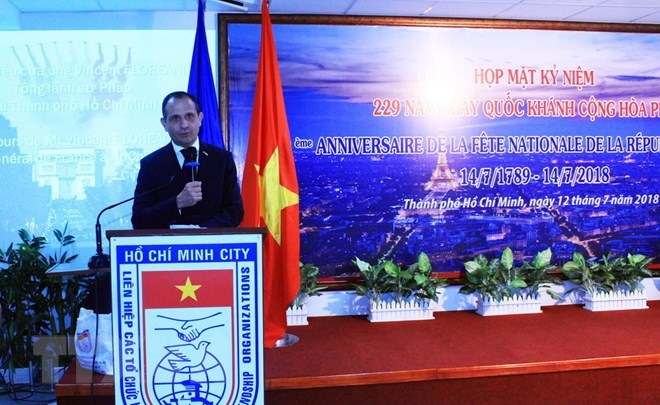 French Consul General in Ho Chi Minh City Vincent Floreani 
The Ho Chi Minh City Union of Friendship Organisations and the city's Vietnam – France Friendship Association (VFFA) held a gathering on July 12 celebrating the 229th anniversary of National Day of France (July 14). 
Speaking at the event, Chairwoman of the municipal VFFA Nguyen Thi Ngoc Dung expressed her delight at the growing bilateral ties over the past years, especially the France visit by Party General Secretary Nguyen Phu Trong in March, during which both sides expressed wish to further deepen their strategic partnership and agreed to facilitate exchanges, especially those at the high level to improve the efficiency of dialogue mechanisms in diverse areas. 
She said the HCM City VFFA has well performed its role as a bridge connecting people in the city and other French localities via development support projects, festivals, music and movie events, and scholarship grant. 
This year, it will hold diverse activities such as the Vietnam – France cultural and friendship week, and debut a photo book celebrating the 45th anniversary of bilateral diplomatic ties and the fifth anniversary of bilateral strategic partnership, she said. 
French Consul General in Ho Chi Minh City Vincent Floreani, for his part, said the anniversary takes place at a time when Vietnam and France are celebrating the 45th anniversary of bilateral diplomatic ties and the fifth anniversary of bilateral strategic partnership. 
He pledged to work closely with the municipal VFFA to effectively launch cooperation programmes, promote trade, investment and cultural ties to raise mutual understanding and bring practical benefits to both peoples. 
France is now one of the leading economic partners of Vietnam in Europe and one of the largest suppliers of official development assistance to the country. As of late 2017, France ranked third among European countries and 16th among 114 countries and territories investing in Vietnam with 512 projects worth 2.8 billion USD. 
In Ho Chi Minh City alone, France invested in 188 projects valued at more than 990 million USD. 
Over the past years, France's business projects, social development projects and collaboration  between Ho Chi Minh City and Lyon city and Rhone – Alpes region in the fields of urban planning and lighting, and training have contributed to the common development of the city, and to Vietnam – France ties in particular.
Nguồn: english.vietnamnet.vn