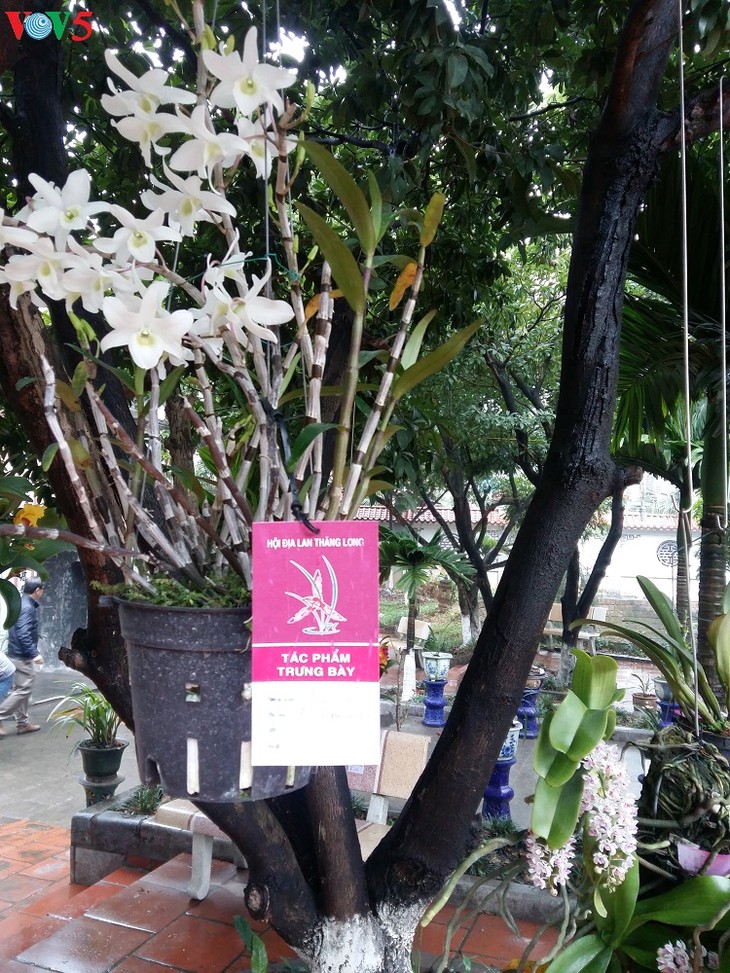 Orchids in blossom at the festival.
Hanoi Orchid Festival 2018 attracted hundreds of artisans, gardeners, and traders from around the country, eager to see dozens of rare orchid species.
On display were traditional varieties of cymbidium flowers. Nguyen Xuan Thuy, former Chairman of the Thang Long Cymbidium Society and a member of the festival's organizing board, said: "This year we invited orchid florists from 42 provinces and cities. The annual festival helps members meet, share experience in growing, tending, and enjoying orchid plants. Tending flowers is a way to refine one's personality."
Growing flowers is meticulous work, but growing orchids requires the patience of a saint and profound knowledge. There are hundreds of species of orchids, each with its own subtlety. Orchids are called the Queen of flowers because of their exquisite beauty.
Tran Phi Cong, the owner of Lan Hoang Vu orchid farm in Nam Dinh city, said: "There's old saying, "A king collects orchids, a mandarin collects camellias". Flower collectors pay most attention to, first, scent, and then color. The cymbidium orchid is recognized as the King of fragrance. It has both scent and color, and more importantly, blooms at the Lunar New Year, a sacred event for the Vietnamese. So this is a flower that Vietnamese people respect much. Collecting flowers is an aspect of culture. Flowers bring us both joy and hope."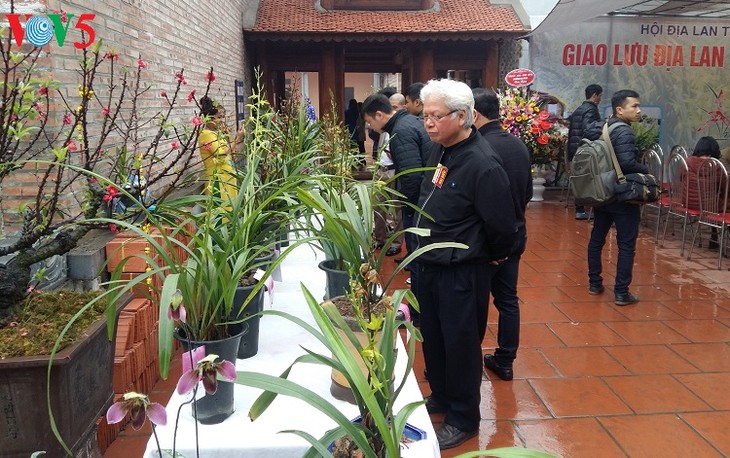 Visitors to the 2018 Hanoi Orchid Festival.
A pot of orchids only lives 5 years. Orchids for Tet should be at least 3 years old because they symbolize 3 generations of a Vietnamese family.
Le Van Tho, a Hanoi resident and orchid enthusiast, said if you buy an orchid pot that's 4 to 5 years old, it will bring a good fortune.
"The cymbidium orchid is one of the most sought flowers at the Lunar New Year. It blossoms once a year in spring. Some species blossom at the Lunar New Year for about 20 days. At 2 to 3 years old, orchids reach the peak of their beauty. In the 4th year, the roots must be trimmed and cuttings taken for planting," Tho said.
Pham Ngoc Khuong, owner of the Bao Ngan Orchid Garden and a member of the Orchid Club in Lam Dong province, told VOV: "The most special orchid of our club at this festival is Dendrobium Farmeri. We also have Dendrobium amabile which matures in 2 years. It can be 2.5 to 3 meters long. Lam Dong is suited to growing orchids which bloom in spring."
Nguồn: vovworld.vn