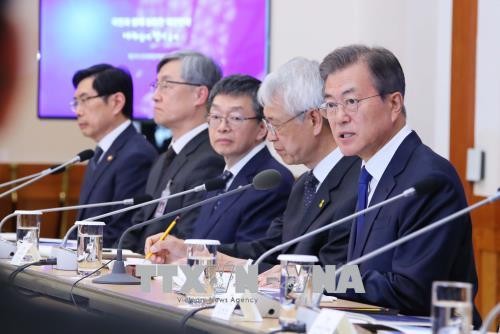 South Korean President Moon Jae-in (first from right) at a meeting in Seoul on April 18, 2018. (Photo:Yonhap/VNA)
The meeting was attended by Unification Minister Cho Myoung-gyon and security chief Chung Eui Yong, one of the two officials who met North Korean President Kim Jong-un in March.
South Korea said Monday it has turned off the loudspeakers blasting propaganda across the militarized border with North Korea to demonstrate its goodwill ahead of the historic summit.
US President Donald Trump said Sunday on Twitter that the North Korean nuclear crisis is far from a conclusion and only time will tell. The statement came a day after the North pledged to halt nuclear tests, close a nuclear plant, and pursue economic development and peace.
Nguồn: vovworld.vn